Vegetation Zones in Nepal
As you explore Nepal, you will notice that there are different vegetation zones in Nepal. These changes are in the surrounding trees, plants and shrubs as you gain altitude. The vegetation in the Himalayas can be broken up into the six categories below.
Tropical
<1,000 m
Below 1,000 m, forests are dominated by sal trees. Other signature plants that you will find in the tropical zone include tall elephant grasses and acacia. Also, rosewood trees and silky cotton trees, which produce bright red flowers every spring.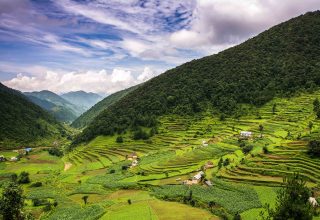 Subtropical
1,000 m to 2,000 m
As you start to gain altitude, the sal forests give way to the more cold-tolerant species. Including the distinctive chir pine. Deciduous trees include autumn-blooming chestnuts and the spring-blooming schima, a fruiting tree species distantly related to the tea bush.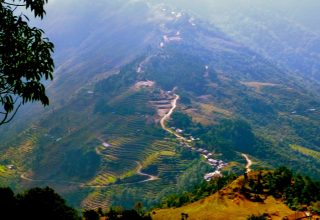 Lower Temperate
1,700 m to 2,700 m
As you climb above 1,700 m, evergreen oaks start to appear. Where there is sufficient water, you may also spot horse chestnut, maple, walnut, alder and birch trees. The deciduous forests are broken up by swathes of blue pines, which flourish on south-facing slopes.
Upper Temperate
2,400 m to 3,000 m
In the upper temperate zone, the brown oaks are joined by dozens of species of rhododendron, the most distinctive plant of the Himalaya. Pin forests at this elevation are made up of blue pines, spruces, firs and hemlocks.
Subalpine
3,000 m to 4,000 m
As you approach the treeline, silver fir, birch and oak trees dominate the forest. Exposed ridges and passes are dominated by shrub rhododendrons and dwarf bamboo. On dry slopes you may see stands of twisted junipers, though this species has been almost eradicated in many areas by harvesting for firewood.
Alpine
4,000 m to snowline
There are almost no trees at all above 4,000 m, though a few species of ground-hugging rhododendrons persist almost as far as the snowline. In the alpine meadows that define this elevation, you will see distinctive alpine flowers like edelweiss, gentians, anemones and stellara, which can survive up to 5500m.
Explore Nepal through trekking
Surprise yourself with your next travel, and join us on the most wonderful treks in Nepal. Here are many things you can do!
For instance, mountain treks. Both short low altitude treks for beginners and extreme long treks on high altitude. And, here are lush jungles with lots of wildlife. (Sneak peak: one-horned rhino!) Also, you will find a country that's rich by culture, colors, festivals and traditions. In the cities and the mountains you will find beautiful and interesting sites, such as Hindu temples and Buddhist monasteries.
There's at least something you'll love.
Are you ready for an
adventure?
Get ready to explore the wonders of Nepal with us